Working Group on Racial Capitalism
RACIAL CAPITALISM
Project Directors: Jordan T. Camp, Christina Heatherton, and Manu Vimalassery
Since its first usage by antiapartheid activists in South Africa to its elaboration by political theorist Cedric J. Robinson, racial capitalism is a concept that delineates the interlinked relationships of race and class constitutive of global capitalism. The racial capitalism working group is a site of sustained collaborative research and study. Our collective work is rooted in a commitment to Black radicalism, historical materialism, feminism, and anti-imperialism.
The working group, directed by Jordan T. Camp, Term Assistant Professor of American Studies, Barnard College; Christina Heatherton, Assistant Professor of American Studies, Barnard College; and Manu Vimalassery, Assistant Professor of American Studies, Barnard College, theorizes the connections between exploitation and expropriation in interlinked political geographies. The "Racial Capitalism" working group will build on and also expand already existing efforts of the Barnard New Directions in American Studies (NDAS) initiative.
With members that include scholars from Barnard, Columbia, and the Center for Place, Culture, and Politics (CPCP) at the CUNY Graduate Center, as well as local scholars, graduate students, organizers, and visiting international scholars, this group seeks to ask: what visions of justice does the critique of political economy enable us to imagine, and to achieve? Through public lectures, seminars, manuscript workshops, conferences, community-based research projects, publications, exhibitions, and a digital archive, the working group seeks to gain clarity on the material and ideological links between Indigenous dispossession, racism, imperialism, and capitalist political economy.
Image by Elizabeth Catlett, "Watts: Detroit: Washington: Harlem: Newark" (1970)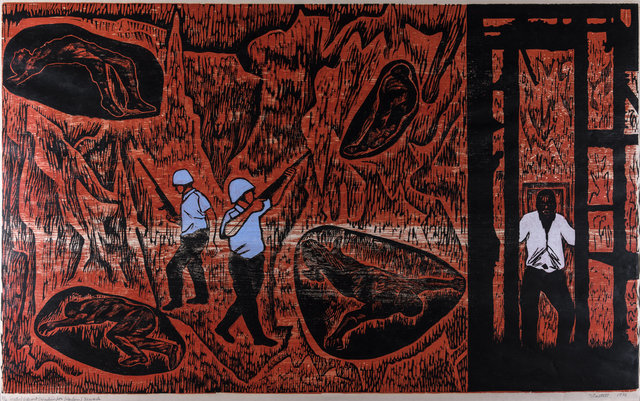 Our History is the Future - Manuscript Workshop
In September 2017 we organized a manuscript workshop for Nick Estes' Our History is the Future. Participants included Roxanne Dunbar Ortiz, K-Sue Park, Manu Karuka, Jordan T. Camp, and Christina Heatherton.
NICK ESTES, Our History is the Future: Standing Rock versus the Dakota Access Pipeline, and the Long Tradition of Indigenous Resistance (Verso Books, 2018)
In 2016, a small protest encampment at the Standing Rock reservation in North Dakota, initially established to block construction of the Dakota Access oil pipeline, grew to be the largest Indigenous protest movement in the twenty-first century, attracting tens of thousands of Indigenous and non-Native allies from around the world. Its slogan "Mni Wiconi"--Water is Life--was about more than just a pipeline. Water Protectors knew this battle for Native sovereignty had already been fought many times before, and that, even after the encampment was gone, their anti-colonial struggle would continue.

In Our History is the Future, Nick Estes traces traditions of Indigenous resistance leading to the #NoDAPL movement from the days of the Missouri River trading forts through the Indian Wars, the Pick-Sloan dams, the American Indian Movement, and the campaign for Indigenous rights at the United Nations. While a historian by trade, Estes also draws on observations from the encampments and from growing up as a citizen of the Oceti Sakowin (the Nation of the Seven Council Fires), making Our History is the Future at once a work of history, a personal story, and a manifesto.
Bio: Nick Estes is Kul Wicasa and a citizen of the Lower Brule Sioux Tribe. He is an Assistant Professor in the American Studies Department at the University of New Mexico. For 2017-2018, Estes was the American Democracy Fellow at the Charles Warren Center for Studies in American History at Harvard University. His research engages colonialism and global Indigenous histories, with a focus on decolonization, environmental justice, anti-capitalism, and the Oceti Sakowin.
Estes is the author of the forthcoming book Our History is the Future: #NoDAPL, Standing Rock, and the Long Traditions of Indigenous Resistance (Verso, 2019), which places into historical context the Indigenous-led movement to stop the Dakota Access Pipeline. He edited with Jaskiran Dhillon the forthcoming volume #NoDAPL and Mni Wiconi: Reflections on Standing Rock (University of Minnesota, 2019), which draws together diverse perspectives from leaders, scholars, and activists of the Standing Rock movement. He was a guest editor with Melanie K. Yazzie of a special issue of Wicazo Sa Review (Spring 2016) on the legacy of Dakota scholar Elizabeth Cook-Lynn, one of the founders of American Indian Studies. His film and book reviews can be found in Environmental History, Journal of Native American and Indigenous Studies Journal, Harvard Business Review, and Abolition Journal.
In 2015, his reporting on bordertown violence and racism for Indian Country Today won a Third Place Prize for Excellence in Beat Reporting from the Native American Journalism Association. Estes' writing is also featured in Jacobin, Indian Country Today, The Funambulist Magazine, High Country News, and La Jicarita. He was a historical consultant for the episode "Standing Rock II," for Vice's 2017 award-winning documentary series "Rise," directed by Michelle Latimer, and a research consultant for the documentary film Ladonna Harris: Indian 101 (2016), directed by Julianna Brannum. Interviews with Estes have appeared on Native American Calling, Cultures of Energy Podcast, and in Policing the Planet (Verso, 2016), a book edited by Jordan T. Camp and Christina Heatherton.
Estes' CV and list of publications are available here: https://oldwars.wordpress.com/writings/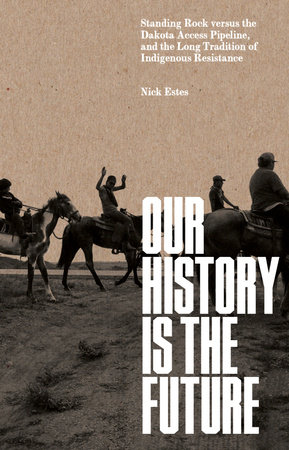 Black Trans Reproductive Labor Lecture
On Thursday, October 19, 2017 we organized a talk for Treva Ellison entitled "Black Trans Reproductive Labor." Watch here.
This talk builds on scholarship and activism that theorizes black queer and trans history and politics in relationship to racial capitalism. It thinks through how black trans and gender non-conforming people have been positioned and imagined in relation to the carceral state. It considers the role that positioning plays in the reproduction of social relations of racial capitalism: the re- iteration of the color line as one that fragments class politics, and the deployment of gender normativity as a mode of building class power and inhabiting racial progress. Using archival examples from research on queer criminality in Los Angeles, the talk will contextualize three stories in which black trans and gender non-conforming people come into archival view not only in the context of work and labor, but also through their interface with the carceral state. The stories include a report of three black domestic workers arrested for cross-dressing in 1949, Sir Lady Java's fight against the Los Angeles Police Commission in 1967, and the LAPD murder Laverne Turner, a black gender non-conforming young person, in 1970. These stories emphasize how vital the racialization of space is to articulations of queer criminality; why labor and capital are (still) necessary for theorizing black trans and queer positionality; and why intersectional and inter-disciplinary approaches to the carceral geographies help to expand our understanding of how racial capitalism operates.
Organized by the Program in American Studies at Barnard College and the MA Program in American Studies at the Center for the Study of Ethnicity and Race at Columbia University. Co-sponsored by the Barnard Center for Research on Women and the Department of Women's, Gender & Sexuality Studies of Barnard College
Walter Rodney and the Russian Revolution - Book Release
With Robin D.G. Kelley and Vijay Prashad, moderated by Christina Heatherton. Watch here.

In his short life, Guyanese intellectual Walter Rodney emerged as one of the foremost thinkers and activists of the anti colonial revolution, leading movements in North America, Africa, and the Caribbean, Wherever he was, Rodney was a lighting rod for working-class Black Power organizing. His deportation sparked Jamaica's Rodney Riots in 1968, and his scholarship trained a generation how to approach politics on an international scale. In 1980, shortly after founding the Working People's Alliance in Guyana, the thirty-eight-year-old Rodney was assassinated.

Walter Rodney's The Russian Revolution collects surviving texts from a series of lectures he delivered at the University of Dar Es Salaam, an intellectual hub of the independent Third World. It had been his intention to work these into a book, a goal completed posthumously with the editorial aid of Robin D. G. Kelley and Jesse Benjamin. Moving across the historiography of the long Russian Revolution with clarity and insight, Rodney transcends the ideological fault lines of the Cold War. Surveying a board range of subjects – the Narodniks, social democracy, the October Revolution, civil war, and the challenges of Stalinism–Rodney articulates a distinct viewpoint from the Third World, one that grounds revolutionary theory and history with the people in motion.
Race and America's Long War - Book Release
RACE AND AMERICA'S LONG WAR
featuring:
Nikhil Pal Singh, New York University in conversation with:
Neferti Tadiar, Barnard College
Brent Hayes Edwards, Columbia University
Chandan Reddy, University of Washington
March 6, 2018, 6:30pm
James Room, 4th Floor Barnard Hall, Barnard College
Nikhil Pal Singh is Associate Professor of Social and Cultural Analysis and History at New York University, and Founding Faculty Director of the NYU Prison Education Program
Neferti Tadiar is Professor of Women's, Gender, & Sexuality Studies at Barnard College and Director of the Center for the Study of Ethnicity and Race at Columbia University
Brent Hayes Edwards is Professor in the Department of English and Comparative Literature and the Center for Jazz Studies at Columbia University, as well as the Director of the Scholars-in-Residence Program at the Schomburg Center for Research in Black Culture of the New York Public Library.
Chandan Reddy is Associate Professor of English and Gender, Women and Sexuality Studies at the University of Washington
The event is free and open to the public. Books will be available for sale and a signing will follow. Organized collaboration with Barnard New Directions in American Studies (NDAS), the M.A. Program in American Studies in Columbia's Center for the Study of Ethnicity and Race, and the University of California Press.
Notes on How Nina Simone Helped Me Understand Post-9/11 America - Talk
The New Directions in American Studies Speaker Series presents

'My father always promised me that we would live in France':
Notes on How Nina Simone Helped Me Understand Post-9/11 America

a talk by:

Michael B. Gillespie
Associate Professor of Film
Department of Media & Communication Arts
Black Studies Program
The City College of New York
Wednesday, January 24th, 6:30 pm, 420 Hamilton Hall
Organized by the MA Program in American Studies at the Center for the Study of Ethnicity and Race and the American Studies Program at Barnard College
Co-sponsored by the Institute for Research in African American Studies
Speaker Bio:Dr. Michael B. Gillespie is a film theorist and historian with an interest in black visual and expressive culture, film theory, genre, visual historiography, global cinema, adaptation theory, popular music studies, and contemporary art. His book, Film Blackness: American Cinema and the Idea of Black Film (Duke University Press, 2016) frames black film alongside literature, music, art, photography, and new media, treating it as an interdisciplinary form that enacts black visual and expressive culture. The book shifts the ways we think about black film, treating it not as a category, genre, or strictly a representation of the black experience but as a visual negotiation between film as art and the discursivity of race.

Dr. Gillespie has published numerous essays and book chapters including "Grace and Grind: Notes on the Work of Kevin Jerome Everson" - How to Remain Human (Museum of Contemporary Art Cleveland, 2015) and "Reckless Eyeballing: Coonskin, Film Blackness, and the Racial Grotesque," - Contemporary Black American Cinema: Race, Gender and Sexuality at the Movies. ed. Mia Mask (Routledge, 2012). Dr. Gillespie has presented over 30 talks and lectures and delivered over 22 academic papers at conferences in national and international venues. He has organized numerous academic panels on black visual and expressive culture for meetings of the Society for Cinema and Media Studies, American Studies Association, and Association for the Study of the Arts of the Present. His most recent research project is entitled Music of My Mind: Blackness and Sonic Visuality.
Oral History Workshop
Amy Starecheski (co-director of Columbia's Oral History MA program) facilitated a workshop on oral history.
New Directions in American Studies
New Directions in American Studies (NDAS) at Barnard College was a project of CCI from August 2017-May 2018.
NDAS is a site of sustained collaborative research and study. We take as our point of departure a statement Malcolm X made at Barnard College on February 18, 1965, three days before his assassination: "I am a human being first, and an American second."
Our collective work is rooted in a commitment to internationalism; Black liberation; anti-imperialism; decolonization; radical feminist and queer critiques; radical labor movements; historical materialism and a critique of political economy.
We take our location in Harlem seriously as a central historic node of the Global South. We link our intellectual work, teaching, and dialogues to Harlem's ongoing history of freedom struggles. We situate ourselves in American Studies, a field where anti-racist feminist principles, accountability to radical social movements, and commitments to redistributive justice are inextricably linked to intellectual production.
NDAS oversees a number of activities: We host NDAS Visiting Scholars – artists, organizers, journalists, and/or scholars whose work exemplifies NDAS' principles. We organize an annual NDAS Speaker Series, a combination of public lectures and symposia, which enable students, faculty, and community members to engage in critical dialogues. We facilitate small NDAS Manuscript Workshops where junior and senior scholars are able to receive feedback on their manuscripts from established scholars in the field. Finally, we also organize a major annual NDAS Conferences, where US-based and international scholars are able to share research and knowledge. Each of these activities is directly tied to lecture classes, research projects, and seminars in American Studies and strongly integrates the work and interests of Barnard College faculty and students.